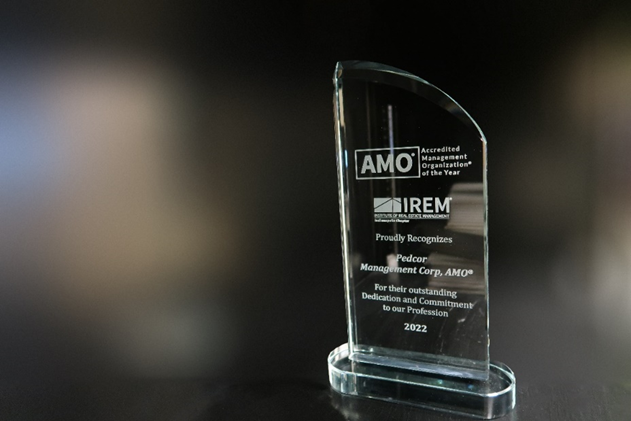 Pedcor Management Corporation is an owner-held management company and is accredited through the Institute of Real Estate Management® (IREM). This November, PMC employees attended the IREM Indianapolis 2022 Annual Dinner and were the proud recipients of multiple awards for property management. The dinner details included chapter awards presentations, CPM and ARM Installation, announcing the Heroes for the House & Golf Outing achievements, and more. Three Pedcor Management employees are a part of the IREM Indianapolis Committee. An employee and Pedcor Management received two awards during the dinner!
ARM of the Year and AMO® of the Year Award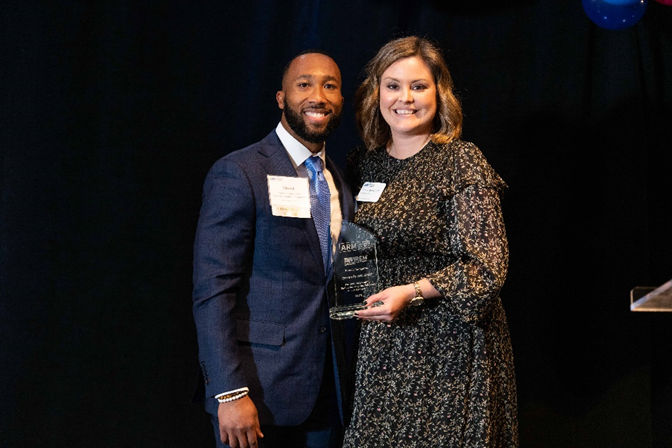 A Pedcor Management employee received the 2022 IREM Indianapolis ARM of the Year award. The nominee received the IREM® ARM (Accredited Residential Manager®) of the Year award by committing to the residential real estate management profession and through valuable contributions to enhance its future by advancing the real estate management profession; providing excellent service to clients and residents; demonstrating a personal commitment to community service; demonstrating leadership through innovative initiatives, programs, or business practices that resulted in business advancement and/or property success; demonstrating leadership by mentoring of others; and demonstrating a commitment to ethical business practices based on the IREM Code of Professional Ethics.
The PMC employee said "I could not be happier to work for such a great organization with outstanding leaders. None of this would be possible without guidance from you all. Over the years, I have learned so much from watching the work ethic each of you put in daily. I am honored to be part of an organization that promotes education, teamwork, and gratitude. Thank you to certain team members for displaying what authentic leadership is about and helping me grow professionally. I look forward to continued success."
Pedcor Management Corporation received the IREM Indianapolis 2022 AMO® of the Year award. Accredited Management Organization® (AMO®) is the premier recognition of excellence given to real estate management firms. It is a mark of distinction based on achievement of industry standards and use of best practices that define real estate management firms and have meaning to their clients and the assets they manage – a clear demonstration to owners, investors, and clients that their properties are in the best possible hands. Pedcor Management is honored to be a part of the IREM organization which benefits our employee's training, education, and community involvement throughout the years and for years to come.
---
Pedcor Companies is a full-service development, construction, property management, banking and finance team committed to creating stable, inclusive, and quality rental housing across the nation. We are cultivating thriving communities. For more information, please visit our website.
Pedcor supports the federal fair housing act and all state and local laws prohibiting discrimination in housing with regard to race, color, religion, national origin, sex, familial status, handicap, creed, sexual orientation, gender identity, and lesbian, gay, bisexual, transgendered (LGBT+) individuals. Pedcor is an equal opportunity provider and employer.